INK!
1988-2019
This book is a solid presentation of Guttorm Nordø's more than 30 years of working with ink – paintings and drawings. It contains 455 pictures spread through 292 pages and comes in hardcover with four-color printing. The book is a unique, beautiful and strange documentation of Guttorm Nordø's yearlong experimentation with brushes, nibs, all kinds of paper and Black Indian Ink: a universe of its own, a juicy visual world of joy, horror, dread and love.
"INK!" is a truly timeless book, like all art must aim to be.
The book also contains four essays, written by Øivind Storm Bjerke (in Norwegian), Erland Kiøsterud (English and Norwegian), Tommy Olsson (Swedish) and Roberto Ohrt (in German).
Erland Kiøsterud (Author): "Every time I see Guttorm Nordø's ink drawings I don't know whether to laugh or cry. They take us by surprise, creating an awareness that enables us to recognize something in ourselves that we never even knew was there. With his sovereign ink strokes Guttorm Nordø confronts us with our madness, in short; he possesses that rare quality which makes us liberatingly normal."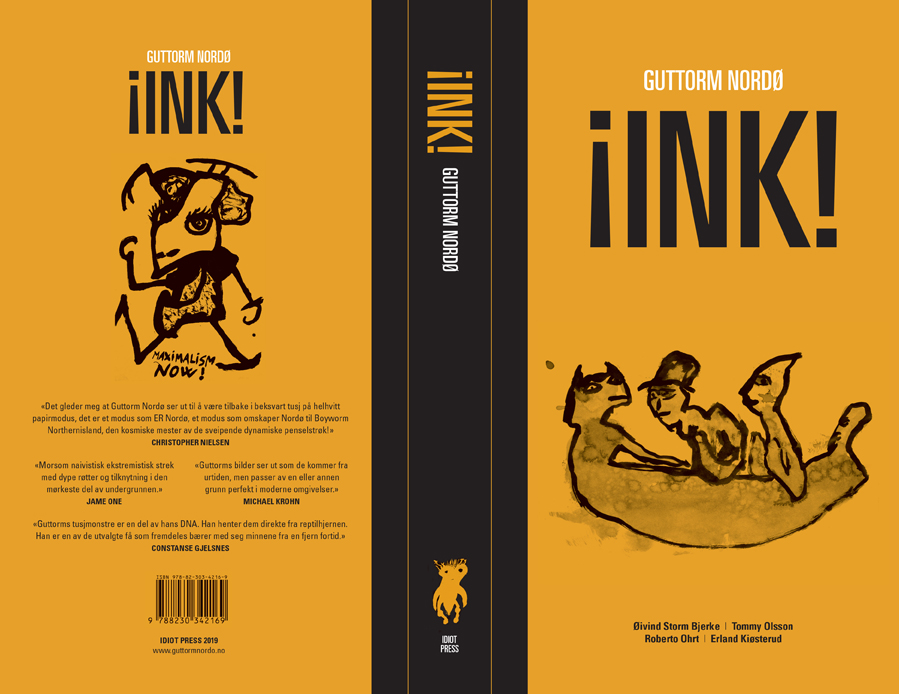 INK! (free shipping)
360 NOK = approx 33.4 USD = approx 30.6 EUR
… or contact Guttorm Nordø: mail@guttormnordo.no
Hardcover, 292 pages
Dimensions: 145 x 245 x 30 mm, 810 g
Idiot Press 2019
ISBN 978 82 303 4216 9
Price: 360.00 NOK
Norsk? Vipps 360.- til 402 81 327. Husk å oppgi navn og postadresse. Jeg spanderer porto.
Over firehundreogfemti tusjinger har fått sin plass i denne boka, og er du først Nordø-fan, eller interessert i å bli det, eller kanskje bare veldig glad i Black Indian Ink, så har du virkelig noe å se frem til. Dette er boka du kan bla i, gang på gang, og det i årevis fremover. Hver solgte INK-bok vil også bringe Guttorm ett skritt videre mot hans neste utgivelse på Idiot Press. INK! Årets julegave? (May-Irene Aasen)
Med denne boken gjenoppliver Guttorm Nordø det smått legendariske forlaget Idiot Press, som sto bak en masse merkverdige, små utgivelser i Trondheim i 1980-årene; musikk, fanziner, street art-plakater, postkortserier.
INK! er, som tittelen antyder, en samling av tusjmalerier og tusjtegninger, alt fra miniatyrer til relativt store formater, laget i årene 1988 til 2019.
Bokens innhold er et solid og representativt utvalg fra mer enn tredve års traktering av pensler, pennesplitter og Black Indian Ink.
Boken byr også på tekster av forfatteren Erland Kiøsterud, kunsthistorikerne Øivind Storm Bjerke og Roberto Ohrt, og kunstkritiker Tommy Olsson.