INK!
1988-2019
This book is a solid presentation of Guttorm Nordø's more than 30 years of working with ink – paintings and drawings – and it contains 455 pictures spread through 292 pages and comes in hardcover with four-color printing. It is a unique, beautiful and strange documentation of Guttorm Nordø's yearlong experimentation with brushes, nibs, all kinds of paper and Black Indian Ink: a universe of its own, a juicy visual world of joy, horror, dread and love.
"INK!" is a truly timeless book, like all works of art must aim to be.
The book also contains four essays, written by Øivind Storm Bjerke (in Norwegian), Erland Kiøsterud (English and Norwegian), Tommy Olsson (Swedish) and Roberto Ohrt (in German).
Erland Kiøsterud (Author): "Every time I see Guttorm Nordø's ink drawings I don't know whether to laugh or cry. They take us by surprise, creating an awareness that enables us to recognize something in ourselves that we never even knew was there. With his sovereign ink strokes Guttorm Nordø confronts us with our madness, in short; he possesses that rare quality which makes us liberatingly normal."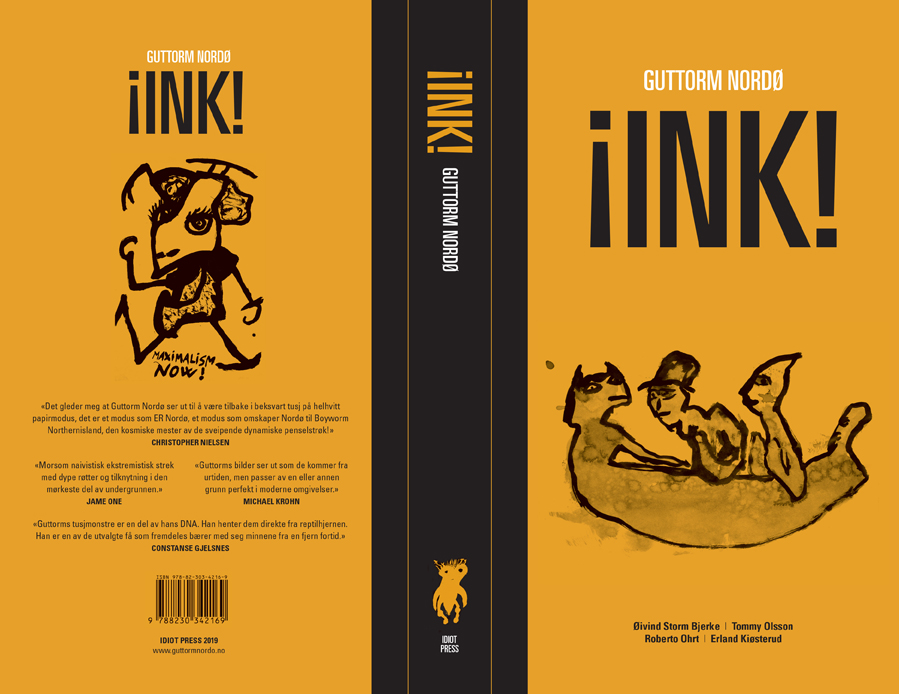 INK! (free shipping)
360 NOK = approx 40.5 USD = approx 36.1 EUR
… or buy the book at Tronsmo bokhandel, Universitetsgata 12, Oslo
… or contact Guttorm Nordø: mail@guttormnordo.no
Hardcover, 292 pages
Dimensions: 145 x 245 x 30 mm, 810 g
Idiot Press 2019
ISBN 978 82 303 4216 9
Price: 360.00 NOK